The BBQ Hut originates in Lapland and is called a "Grillikota" in Finnish. Built using the traditional Scandinavian design and high quality Scandinavian Spruce wood. Our BBQ Huts offer a location for an unforgettable evening. You could be anywhere – Lapland, not London… Winter BBQ? Why not? "Whether it's a family meal, or a party, our BBQ Hut will make it a truly special night."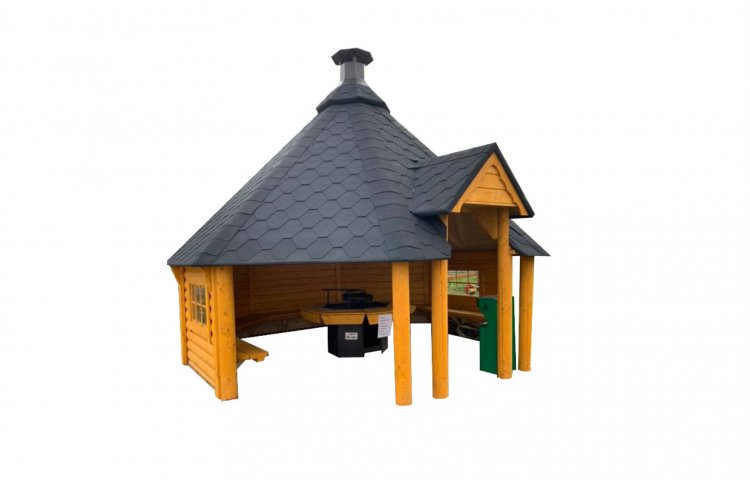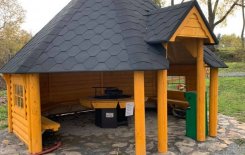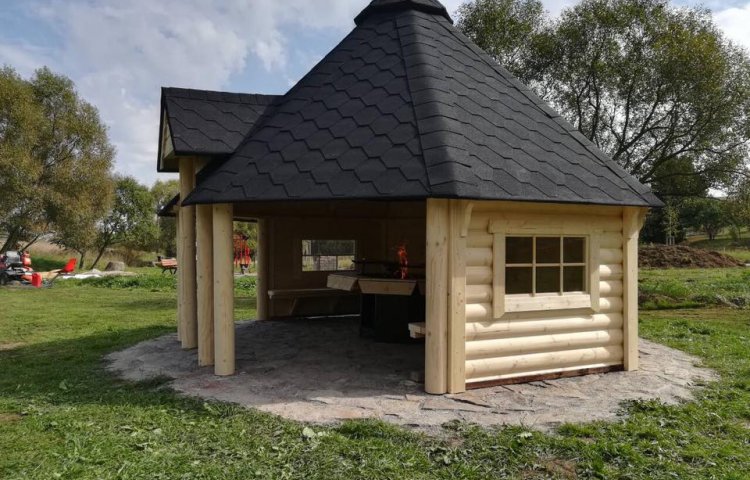 BBQ Hut Contains:
Wall, roof panels;
6 support wooden pillars;
Roof covered with bitumen shingles
Inside grill with cooking platforms and a tables around the grill;
Adjustable chimney;
2 windows 
5 inside benches.

A combination of Scandinavian style and natural wood allows you to enjoy a cozy BBQ hut. Due to its design and easy assembling the hut is extremely mobile and can be built in your garden, yard or campsite. This cottage will not endanger the landscape. This BBQ Hut has an enclosed wall at the back, protecting against the wind. The open front allows you to enjoy the view and be in the fresh air.
Open Grill Cabin walls are made of rounded spruce boards. The support columns in front can be of two types: round and square. A roof is made of eight elements and covered with bitumen shingles (different colours can be selected: red, green and black). And there is a small porch with a roof at the entrance. Cabins are made from North spruce wood. North spruce is typically a creamy white, with a hint of yellow and/or red. Norway Spruce has a fine texture. The wall thickness is 45 mm.
The standard set includes a barbecue grill. There is a convenient wood- or charcoal-fired grill with a table around it inside the cabin. Also, one adjustable cooking platform and two special platforms for a kettle, frying pan, etc. can be found. Above the grill, there is an adjustable chimney.
Please contact us for installation options and our optional extras which include: painted finishes, cooking accessories, premium charcoal, cushions, lighting, decking and general landscaping.
Open Sided BBQ Hut
UK Mainland delivery
Cost £4,745.00
Open Sided BBQ Hut
Installation & UK Mainland delivery
Cost £5,945.00
Watch our installation video >
The prices shown are for guidance only.
Final price subject to survey.