Add a profit making dimension to your outdoor space
Living Outside can cater for your commercial needs, creating bespoke structures, covered areas, BBQ Huts or Log cabins. We have a great understanding of the best way to utilise your outdoor space to add an additional profitable dimension to your business.
With the spectre of Brexit still looming, domestic UK holidays are experiencing a resurgence, as nervous travellers choose to stay at home rather than face the expense and uncertainty of going abroad. That's great news for anyone in the the holiday business.
Thanks to the internet and social media, it's easier than ever to advertise a holiday property, so you can handle the whole thing yourself, keeping your costs low and your profits high.
"Unlike more nebulous forms of investment, your Log cabin is a solid, reliable moneymaker. There's no speculating here. You know your log cabin will be there as a reliable stream of income"
LUXURY OUTDOOR INVESTMENT
Businesses we can help include:
PUBS
RESTAURANTS
HOTELS
CAMPSITES
LEISURE PARKS
ACTIVITY CENTRES
GLAMPING
HOLIDAY PARKS
EQUESTRIAN CENTRES
GOLF CLUBS
Planning
All your information regarding planning
Made to Measure Cabins
Speak to our architect and get some initial drawings created for FREE
UK HOLIDAYING HAS NEVER
LOOKED MORE ATTRACTIVE
Following a troubled time for all in the staycation industry, the doors are open again for holiday sites all across the UK.
Travel abroad is likely to remain limited, so the British public will be spending this summer in the UK. Desperate to get out of their homes but wary of booking accommodation options that see them crowded together in close proximity; glamping could be the perfect solution.
FANTASTIC RETURNS OF PROFIT
Below is an example chart of a 1 bedroom cabin sleeping 4
5 YEAR RETURNS @ 50% OCCUPANCY

| | | | |
| --- | --- | --- | --- |
| PRICE PER NIGHT | £75 | £100 | £125 |
| Year 1 | £13,687.5 | £18,250 | £22,812.5 |
| Year 2 | £27,375 | £36,500 | £45,625 |
| Year 3 | £41,062.5 | £54,750 | £68,437.5 |
| Year 4 | £54,750 | £73,000 | £91,250 |
| Year 5 | £68,437.5 | £91,250 | £114,062 |
The range below are an ideal choice for investment.
Guoman Tower Hotel – Alfresco Kitchen and Pizza Oven
Guoman are a group of 5 Star Luxury London Hotels – The Tower Bridge Hotel wanted to maximise benefits from the foot-fall and passing trade in this busy part of London. We were engaged to design and build a mobile, modular outdoor kitchen, including a large pizza oven. The kitchen proved to be a very profitable success and their initial investment was repaid in a matter of weeks.
La Fosse at Cranborne – Award-winning Chef, Mark Hartstone and his BBQ Hut
Mark Hartstone is Dorset's award-winning chef and owner of La Fosse at Cranborne. Mark and the team wanted to add an extra dining experience to the successful restaurant and B&B. One of our BBQ Huts what the perfect fit, La Fosse rent out the hut for private parties and it's become a real talking point for all visitors.
Cobham Sports and Social Club – Alfresco dining area, Outdoor Sports TV and Wood Fired Oven
We were approached by Cobham Sports and Social Club to redesign their alfresco dining space. We transformed the out-door area from little more than a lean to into a bespoke covered area. We installed a commercial wood fired oven, with herb garden, a bespoke roof, feature wall with TV and hand-made oak tables and benches. Cobham increased their cover capacity for an extra 50 diners and have a real wow-factor for all guests.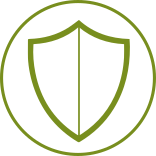 We pride ourselves in the quality of all our timber cabins, offering a leading 7 year structural warranty, we also give a 12 month snagging guarantee for added peace of mind.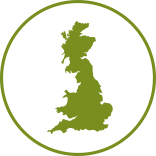 Our cabins and log homes can be delivered anywhere Mainland UK. We can offer offshore and overseas deliveries by quotation.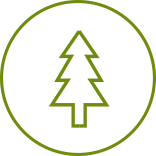 All of our timber is FSC certified premium Scadinavian Wood from sustainably managed forests. When you buy a cabin from us a managed forest becomes larger!.