15 Seat BBQ Hut with Extension
The BBQ Hut originates in Lapland and is called a "Grillikota" in Finnish. Built using the traditional Scandinavian design and high quality Scandinavian Spruce wood. Our BBQ Huts offer a location for an unforgettable evening. You could be anywhere – Lapland, not London… Winter BBQ? Why not? "Whether it's a family meal, or a party, our BBQ Hut will make it a truly special night."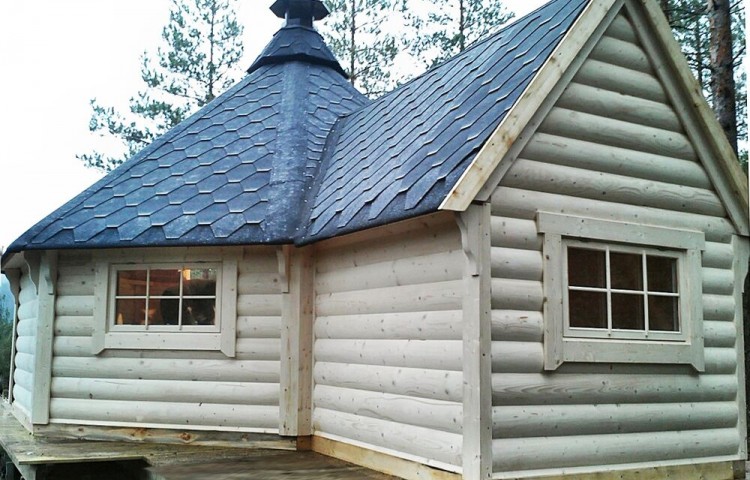 BBQ Hut Contains:
Wall, floor, roof panels;
Roof covered with bitumen shingles of your selected colour;
Inside grill with the cooking platforms and a table around the grill;
Adjustable chimney;
4 double glass windows
Door with a lock and a hexagon window;
4 inside benches
Cushions for benches of your selected colour: brown or blue;
Extension's size 1.70 x 1.83 m.

The hexagonal 15 seater BBQ Hut with extension (2.9 m2) is a perfect solution when you want to have more space for relaxation, for children to play or to use as a social space. The extension and the main Grill Cabin form one structure. Furthermore, the extension has no walls.
High-quality materials ensure the longevity of a grill house and easy use. Cabin walls are made of rounded spruce boards with dimensions 45 x 145 mm. The roof is covered with bitumen shingles (color can be selected), and there are four double glazed windows, two which open. Besides that, the door is decorated with an original hexagonal window. 
Also, there are four benches in the cabin; two of these benches easily transform into sleeping benches: just turn over the additional board. The floor is easily assembled from separate components.
There is a convenient wood- or charcoal-fired grill with a table around it inside the cabin. Also, one adjustable cooking platform and two special platforms for a kettle, frying pan, etc. can be found. Above the grill, there is an adjustable hexagonal chimney. Finally, a cabin is lockable, and there is a small porch with a roof at the entrance.
Please contact us for installation options and our optional extras which include: painted finishes, cooking accessories,
premium charcoal, cushions, lighting, decking and general landscaping.
BBQ Hut – 15 Seat with extension
UK Mainland delivery
Cost £6,350.00
BBQ Hut – 15 Seat with extension
Installation & UK Mainland delivery
Cost £12,845.00
Watch our installation video >
The prices shown are for guidance only.
Final price subject to survey.